Dungeness Spit Lighthouse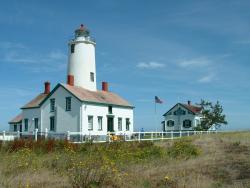 Sequim Lighthouse - Dungeness Spit Lighthouse
The New Dungeness Lighthouse is one of the oldest lighthouses in the Northwest and is one of the very few that allow families an opportunity to be Lighthouse Keepers for a week. It is located at the tip of the 5-mile long Dungeness Spit in Sequim, Washington. The Lighthouse has been in continuous operation, providing navigational aids to ships in the Strait of Juan de Fuca, since its completion in 1857.

The Light Station is maintained and operated by the New Dungeness Light Station Association, whose vision is that "The New Dungeness Light Station will be the finest example of historic restoration, preservation and interpretation in the Nation". Membership in the association furthers the mission of the preservation, restoration, and interpretation of the site. Members are eligible to become Keepers.
Select the Keepers tab for more information about this unique opportunity and live the life of a Lighthouse Keeper!

The New Dungeness Light Station is open to the public. Tours of the Lighthouse are available every day, free of charge. Be sure to check the Tide Tables for the local Dungeness Bay area before attempting the walk out to the Lighthouse!